What You Need
In order to participate you need some device for accessing the internet (computer, cellphone, tablet or such) and a minimum of 2 Mbit/s internet access service.
You also need to be able to make yourself understood in English, alternatively join the activities supported by someone that can translate for you.
Your & The Others
On the camp, you'll meet songwriters (online) from various countries, and team up with a few at a time to write a song. Team work is always a question of chemistry, so you'll be given the chance to work in a few different constellations. These are put together on basis of the information you supply us with by filling in the form "This Is Me". Our goal is to always set up teams consisting of people with complementary skills. We will put you in good company.
During camp-week you will work, at your own pace, with agreed on tasks, and meet with your team mates – face to face, on the chat or the Soundtrap DAW – to bounce ideas. Every third day you'll be initiating work with a new team. In between scheduled events: contact your host whenever you need to! At the end of the camp, we all gather, and listen to the songs in company of a panel consisting of people from the music industry.
You'll be working from your studio, your home apartement, or from wherever you wish, and you'll be able to use your favorite audio work station. When putting the final music production together, your team will be using award-winning software from our partners Soundtrap (now a part of Spotify). Set up your (free) Soundtrap account today and familiarize yourself with the application!
Camp starts at?
Every camp is different as for what timezones the attending songwriters reside in. We try to adjust the time of the starting event accordingly. Quite often we have two of these events. We don't want to force anyone to start camp week with a sleepless night. There is nothing worse for creativity than being sleep-deprived.
Camp always starts on a Saturday… morning, mid day or evening. The exact hour will come down to how your particular camp is composed, and what time zone you live in yourself. You'll get notified! Your host will send you three mails during pre camp week, and try to reach you for a voice call. We will make sure everything is set and you are ready to go when camp starts!
Camp stops at?
Every camp has a final gathering. Always on a Sunday … Like with the starting event, the exact hour will depend on what time zones are involved at your particular camp.
We will make sure you know when to show up!
Your schedule during the week:
Opening event (Saturday), mid week team switch (with a smaller get-together at a time negotiated by you and your team members) and the closing event (Sunday a week later), these are the scheduled events you need to fit into your personal calendar.
During the week you will be working on your own schedule, on whatever time you have available after school/work or such. Your host will be keeping track of the group, and interacting with you when you are available, or via the chat/mail.
Communication
You will be using three ways to interact with the rest of us at the camp:
All of Us Together
When all participants get together simultaneously, we use a web based program dedicated to group meetings. Before every such meeting, you get an invitation containing a link. You click on the link, and you're in. It's very simple. You don't need to install anything on your computer.
The Team
When you've been assigned a team, your team can interact in the Soundtrap DAW, where you assemble your song.
Contacting Your Host.
Your host is a valuable asset, and can assist you in solving the various issues that inevitably emerge in a complex process like a songwriting camp. Whether you struggling with musical ideas, technical issues or communication. Don't hesitate to send Tim an e-mail. Tim(the curly thing)blackbeltcamp.se He will give you a ring within minutes.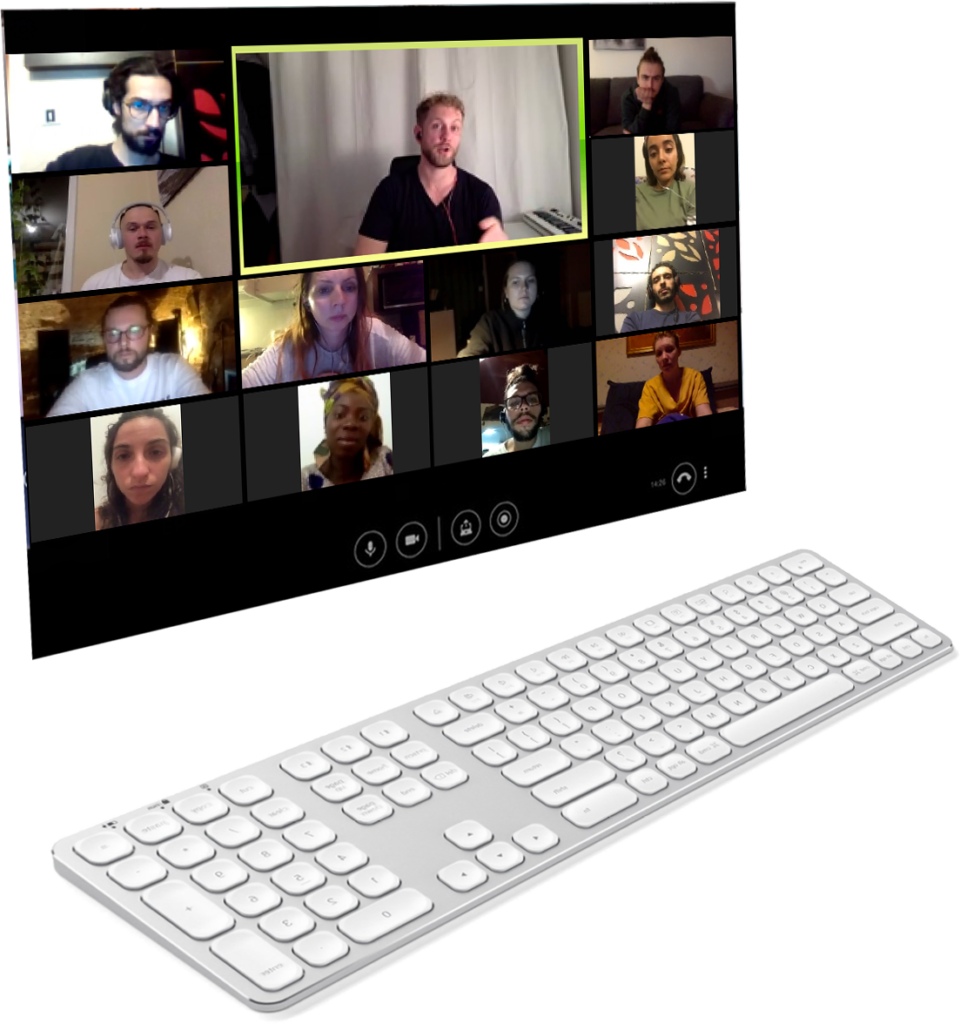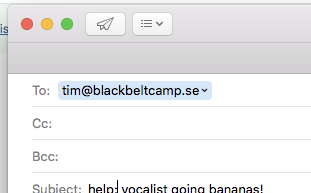 Putting it Together
Head over to Sountrap for a free account.
The fact that Soundtrap has a web based interface, facilitate creating stuff and communicating across the globe makes it perfect for our camps, but is also is a great recording plattform in its own right. Explore its many possibilities, loops and instruments. You might continue to use Soundtrap after camp is over.
As said, you can use your own preferred tools and record your ideas in your favorite DAW, but we have to use a shared plattform to put things together. Here is where Soundtrap is so great. Not only does Soundtrap allow your team to work together on the same recording-project, it also enables you to communicate with each other. Furthermore, we use Soundtrap to showcase all the songs in our final get-together with invited guests from the music industry.
Applying and paying is the same thing, and you do it in our webshop on a secure server.