– Who is Elivava?
– I am a single mother of two from a little village called Baika, in the Volta region of Ghana. I'm a singer and performer. I'm a woman who have been through a lot of chapters and changes in my life. I've been a street child and later domestically abused by my partner. I have also met wonderful caring people that helped me change my life for the better. I love life, people, and children in particular.

– Elivava, I did some research for this interview and found out you've been nominated by the Afrimpact Magazine as one of the 100 most influential Africans of 2018. This due to your engagements in various projects aimed at empowering West African women.
– It's a great feeling, to be acknowledged for what you do. I started helping women because my own experiences earlier in my life. At a time when I was homeless and had a child, a woman named Juliet Carbonu took me into her house and supported me, without asking for anything in return. She is my hero and role model.
– You have a career as a singer. When you're paid for concerts, you set aside part of your earnings for investing in women with ideas.
– I look for women who need funding for starting something. I am not a wealthy person, but seeds do not have to be costly. When you plant something, even a singel seed, so much joy and beauty can flourish and point to a greater hope. Some have a harder time turning their ideas into reality, but it's okay too. I know quite a lot about the reality many West African women face.
– How did you find your way into music?
– My grandfather used to say I would sing a lot as an adult, because I cried a lot when I was a child. He was right!
And to tell the whole story, when I was young, dad left us and travelled away, looking for fortune. My uncle then sacked us from the house and threw us out into the street. Because there was no place to go, mum had to take my four brothers and go back to her home village. From the age of 13, I lived on the streets and slept where ever I could find shelter. One day, as I was spending time in front of a music venue called Makumba, I came in contact with the person that came to be my manager. The club was my shelter at nights when I had no other place to sleep. I started doing back up vocals and vocal hooks, and my new friend also taught me how to sing jazz. He took me into his house of music and thanks to him I started gaining confidence and began my solo career.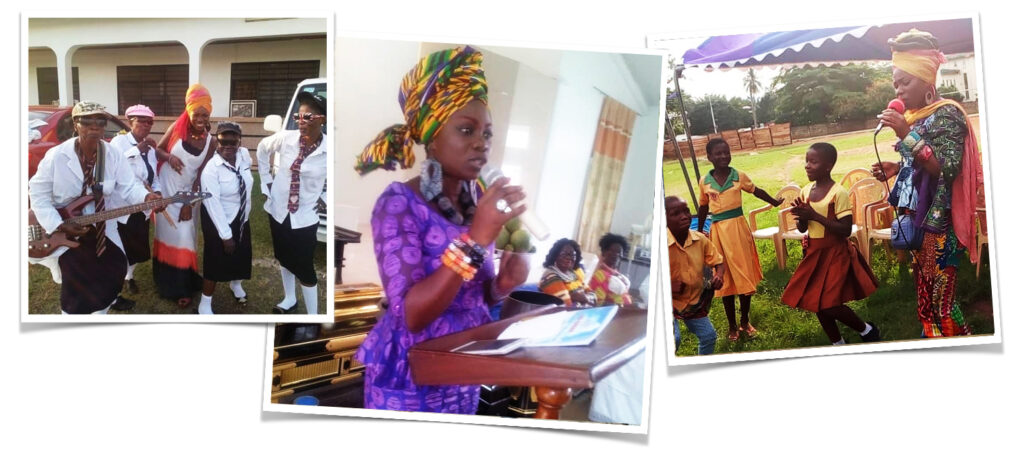 – You're now part of an organisation that encourages people to do good, it's called GGA.
– GGA stands for Global Goodwill Ambassadors. It aims at bringing attention to people that do good. I was asked to join by founder Richard PiPilla who saw how I acted among the people I met in my life. Too little attention is given to the many acts of good will, carried out by ordinary people, and to much attention is given to acts of greed and evil carried out by the few and powerful. As goodwill ambassadors we strive to spread the spirit of peace through our environments.
– I saw on your home page that you're committed to develop your home village Baika.
– It took me 10 years, after my father left, to summon the courage to visit my home village. There is quite a lot of witchcraft and old religion put into children here, and I was very afraid to go back to Baika because of what had happen in my life. I was told it would bring bad things to me. However, from deep within, a feeling began to emerge, that the village was calling for me to come back. It grew stronger and stronger. When I finally summoned strength enough and went there, I saw in the eyes of the women I met, that I had returned for a reason. I now help the women to establish a marketplace where they can sell their products.
– Can you share some of your impressions from BlackBeltCamp?
– It was an amazing experience! I learned a lot of new things from my fellow songwriters and discovered how inspiring it can be to write songs with people you have never met before. People from all over the world, with totally different experiences and musical preferences. It's a peace project. I applaud you for putting this together, and I hope it continues for a long time.